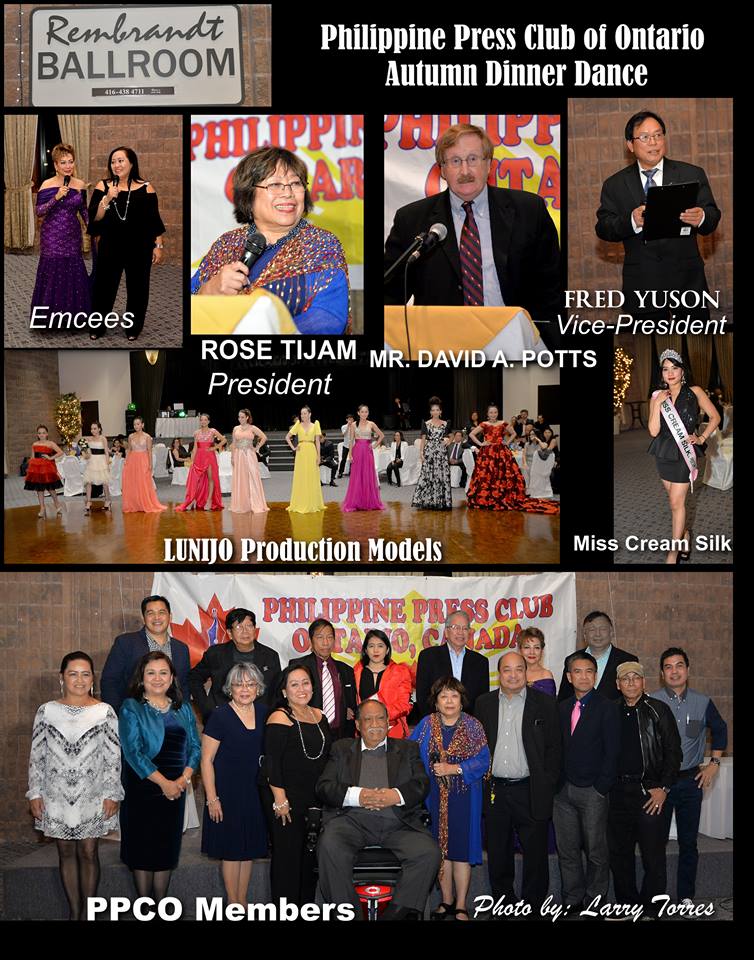 (By Imelda Ortega Suzara; Photos taken by PPCO member, Larry Torres)
Autumn Night Dinner and Dance
A Heartwarming Night with Friends and Family
Rembrandt Hall, Toronto, Ontario, October 20, 2018
To celebrate the change of the season, PPCO hosted a well-attended Autumn Night Dinner Dance at Rembrandt Hall in Scarborough Ontario.
President Rose Tijam stated that, "We are hosting the event to celebrate our many achievements and partnership with the community, as well as welcome the change of the season. The tickets will help support our non-partisan political forums which aim to encourage participation in the Canadian political milieu, discuss freedom of the press and its responsibilities, and other topics that are of interest and value to us and the community."
The program was emceed by Marissa Corpus, Secretary and Agatha Luna, Member. They introduced the program speakers and other participants, and acknowledged press members present, guests, and advertisers of the souvenir program. President Rose Tijam delivered the Welcome Address and Livy Camacho lead the singing of the national anthems of Canada and the Philippines. Pastor Charles Ojano of the First Filipino-Canadian Seventh-Day Adventist Church delivered the invocation.
PPCO member Rosemer Enverga introduced the keynote speaker, Barrister David Potts. Mr.Potts specializes in internet defamation and cyber libel and he discussed 'Recent Development in Internet Defamation: Lesson to be Learned' an enlightening topic for media people whose quest for truth sometimes will lead to expensive court cases. "Freedom of the press, is not absolute," Mr. Potts declared. He is the lawyer for the plaintiff involving several court cases, including a prominent media defendant previously associated with PPCO charged with defamation of a prominent member of our community and a public official.
Some members of the Philippine Artists Group displayed their artworks in the lobby. Models and beauty queens associated with Lunijo Productions presented an amazing mini fashion show and a song by a talented 12-year-old singer Sienna Mathewson.
Jasmine Paguio, a Miss Philippines Canada 2018 (Pinoy Fiesta pageant of PCCF in Toronto) displayed her talent in modelling.
PPCO Vice President Fred Yuson delivered the Closing Remarks. Dancing, networking, and group photos concluded the event for the evening.
Please post and publish, and if you need more information, email iomedia2010@gmail.com.