by Fred Yuson, Vice-President, PPCO; Scarborough, Ontario, Canada, November 24, 2019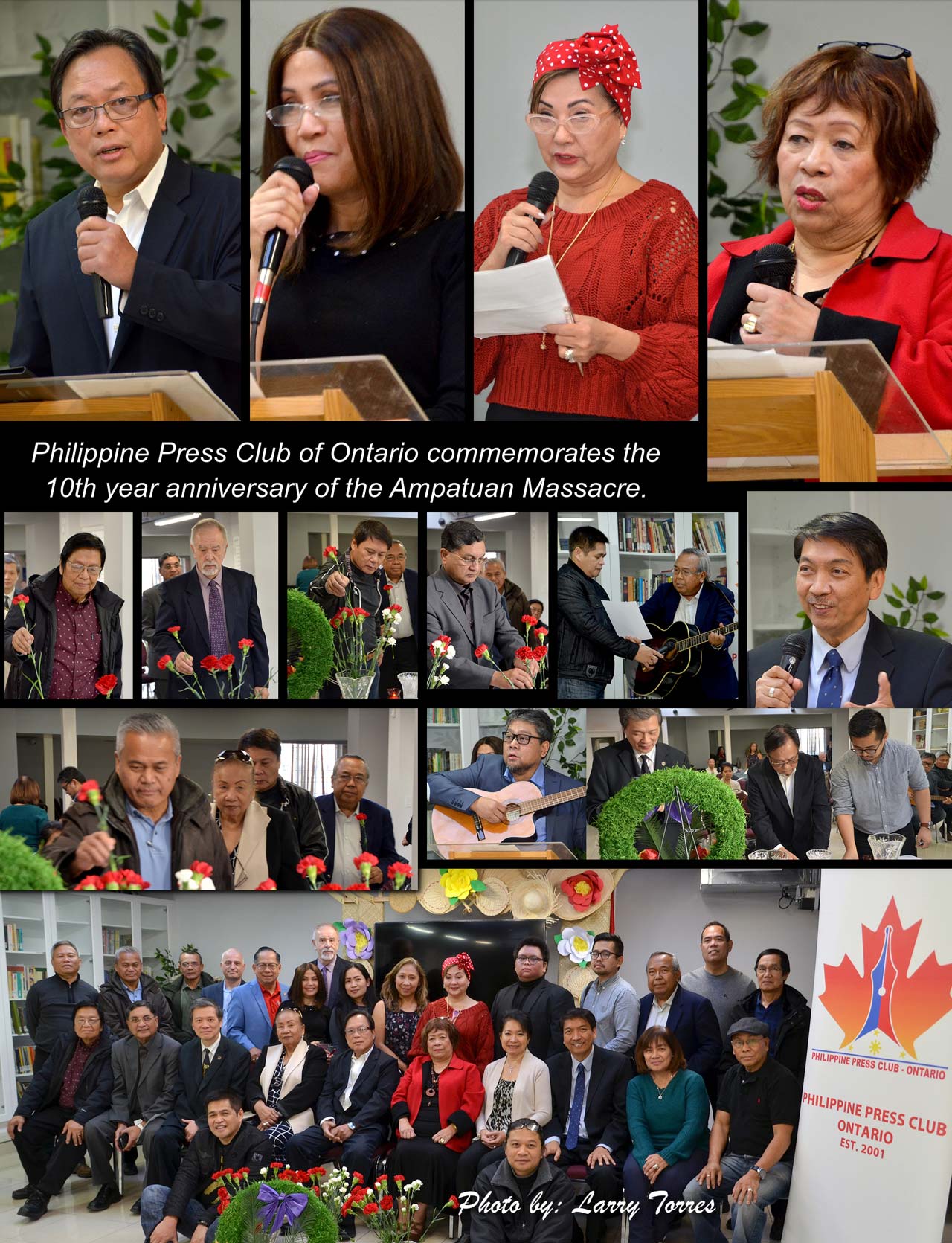 The Philippine Press Club Ontario (PPCO) holds a solemn Flower and Candle Ceremony during the 10th year anniversary of the Ampatuan massacre inside the Filipino Centre Toronto (FCT) in Scarborough, Ontario, to remember the 32 journalists that were murdered in the town of Ampatuan, Maguindano, Mindanao.
Also intended to show sympathy for the families of the victims, the event was attended by the members and officers of PPCO and friends in the community.
Director Judith Gonzales, and Member Agatha Luna – both in the broadcast media, emceed the event.
President Rose Tijam welcomed the guests, which included Garry Tanuan,- TCDSB Trustee (Toronto Catholic District School Board), Steve Pagao- President of the Philippine Chamber of Commerce Toronto, John Sobrinho – Senior Manager of the Royal Bank of Canada, and others.
Rose Tijam, in her opening remarks, stated, "We are demanding justice for them and their families and loved ones. We are demanding respect for the law."
She, then, proceeded to provide history of the Ampatuan Massacre.
Member Larry Torres provided more context by showing vivid video footages as reported by various news organizations at that time.
To recall, the gruesome murders happened on November 23, 2009 in which 58 defenseless people were ambushed and killed including the 32 journalists by men armed with high powered assault rifles.The victims were in a convoy, unaware of their fate, on the way to the town led by Genalyn Mangudadatu, wife of then Buluan Vice-Mayor and now Maguindanao Representative Esmael Mangudadatu, to register the certificate of gubernatorial candidacy of Esmael.

Fast forward – 10 years, and 3 presidents later (Presidents Arroyo, Aquino, and now Duterte), not a single person has been convicted.
Next, with audience participation, Member Lui Queano sang the national anthems and "Di Pangkaraniwan" song and played guitar. Popoy Cana also played guitar and sang Amazing Grace and "Bayan Ko' –a job well done for both.
Pastor Teck Uy, from the Friends of Jesus Christ Church, Canada, delivered an invocation well-tailored to the event and audience.
Then, Member Ysh Cabana and Vice-President Fred Yuson stood up and lighted the candles that are placed on the makeshift altar.
Though somber, the ceremony was simple and easy.
Similar to last year's Ampatuan event hosted by PPCO, as the name of the slain journalist was called, a participant walked slowly to the altar and placed a freshly cut flower into a vase, and this continued until the last name of the victim was called.
PPCO also offered flowers and lit candles for the deceased PPCO members.
Vice-President Fred Yuson delivered the closing remarks thanking those who made the event possible, also commenting on the upcoming Ampatuan verdict which is supposed to happen before Christmas, "hopefully, this is the silver lining that we have been waiting for a long time."
Food and drinks were offered, the event concluded successfully.